The Office of the Ombudsman for Public Education is a confidential, neutral, informal and independent conflict resolution resource available for families, schools, and organizations with concerns regarding public schools and public charter schools throughout the District of Columbia.

Role of the Ombudsperson
Serve as an informational resource for families, students, and schools.
De-escalate and repair relationships through creative problem solving and conflict resolution techniques.
Facilitate communication.
---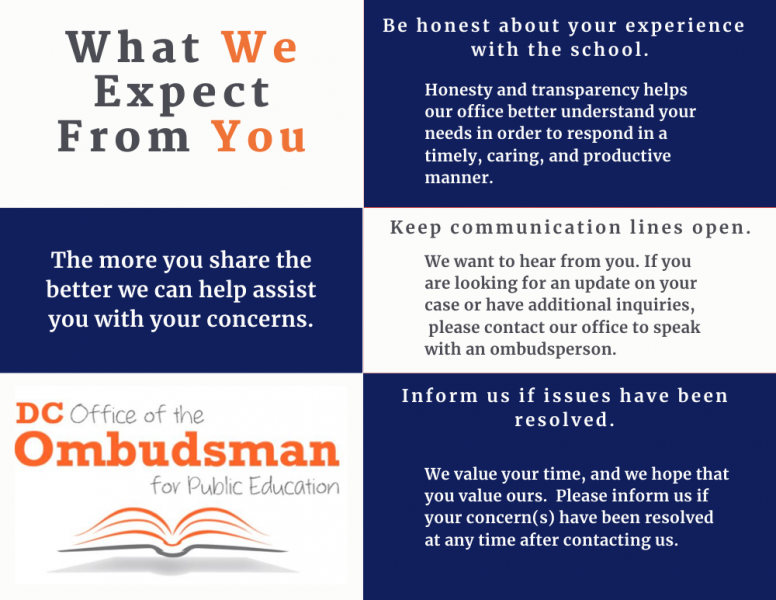 Be honest about your experience with the school
- The more we know the better we can assist you.
Keep communication lines open
- If you have a pending case and are waiting to hear back from an ombudsperson and your contact information has changed, please contact our office by phone or email.

- If you have an active case open and have been working with an ombudsperson it is important to keep communication open. If your contact information changes at any time, please notify our office by phone or email.

- We want to hear from you. If you are expecting a call from us and have not heard back, feel free to reach out to us with further inquiry.

- Our office will close cases after attempting to contact the visitor X # of times.

Inform us if issues have been resolved
- We strive to resolve visitor concerns as efficiently as possible and understand your time is valuable. If your concern(s) have been resolved at any time, please contact our office.