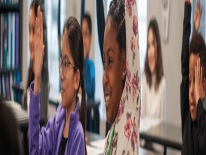 The Office of the Ombudsman for Public Education is a confidential, neutral, informal and independent conflict resolution resource available for families, schools, and organizations with concerns regarding equitable access to public education.
Do you have questions or concerns about your student's education? Get our help!

Online – We encourage you to use our new Online Contact Form (Spanish). We will ask all students/families to provide us with their contact information and a summary of the problem. Our online intake is available 24 hours a day, but someone will follow up during business hours.

Phone – If you prefer to talk to someone in person, or need assistance completing the online intake process, please call us toll free at (202) 741-0886 during our business hours. Our staff can access phone interpretation for callers who do not speak English.
Email – Request for Ombudsman Services can also be made by emailing [email protected].
Individuals who wish to notify the Ombudsman of concerns anonymously may do so by submitting an Anonymous Complaint Form.
Business Hours: Monday – Friday: 9 am - 5:30 pm (except on national holidays)